Collaboration and Engagement Forum
The Forum is the main steering group for the CamEO catchment partnership, offering a central meeting point for sub-catchment partners and technical working group members. It was established to enable the free exchange of ideas, projects and ambitions across the catchment, and the group strives to identify and pursue opportunities to work collectively, in line with the catchment-scale ambitions set out in the CamEO partnership action plan. It is also the primary interface between the catchment hosts and the sub-catchment partnerships, enabling the provision of development support when needed.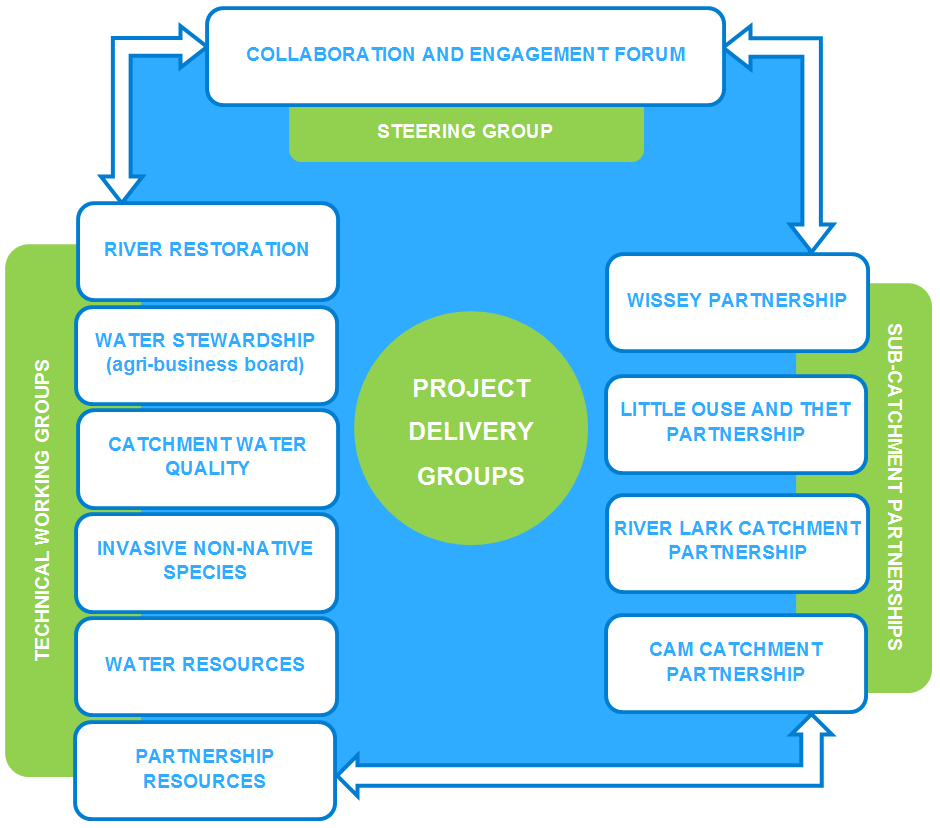 Sub-Catchment Partnerships
Sub-catchment partnerships are local groups, championing improvements on each of the major river systems within the CamEO catchment. These are independent, self-driven groups who unite local partners and focus on community delivery of river habitat enhancements. The groups' ambitions are often aligned with WFD requirements (supported by EA catchment coordinators) but they are not limited by this. Many of the projects proposed/undertaken will be community orientated, relying heavily on volunteer time. 
Click on each of the partnerships to learn more (South Level does not have a partnership yet): 
Technical Working Groups (TWG)
These are catchment focused groups, tasked with discussing the best direction of travel for coordinated delivery of the 6 main programmes of work for CamEO (Community Action, Farming & Land Use, Health of River & Groundwater, Invasive Species, Water Resources, and Partnership Resources). 
A total of 6 groups will be created:
River Restoration TWG

Water Stewardship TWG (water stewardship business board)

Catchment Water Quality TWG

Invasive Non-Native Species TWG

Water Resources TWG

Partnership Resources TWG
Many of these groups will be developed in 2019 to enable further strategic development of the partnership, whilst other groups have been expanded to increase coordination with sub-catchment partnerships.
The Board is also a technical work group – the members can be found below: