CamEO's Extent
The catchment extends from Swaffham in the north to Royston and Saffron Walden in the south and from Potton in the west to Attleborough in the east. This catchment is divided into 6 sub-catchments, which are dedicated to the individual issues faced in that location. Please refer to the map if you are unsure which sub-catchment you fit into.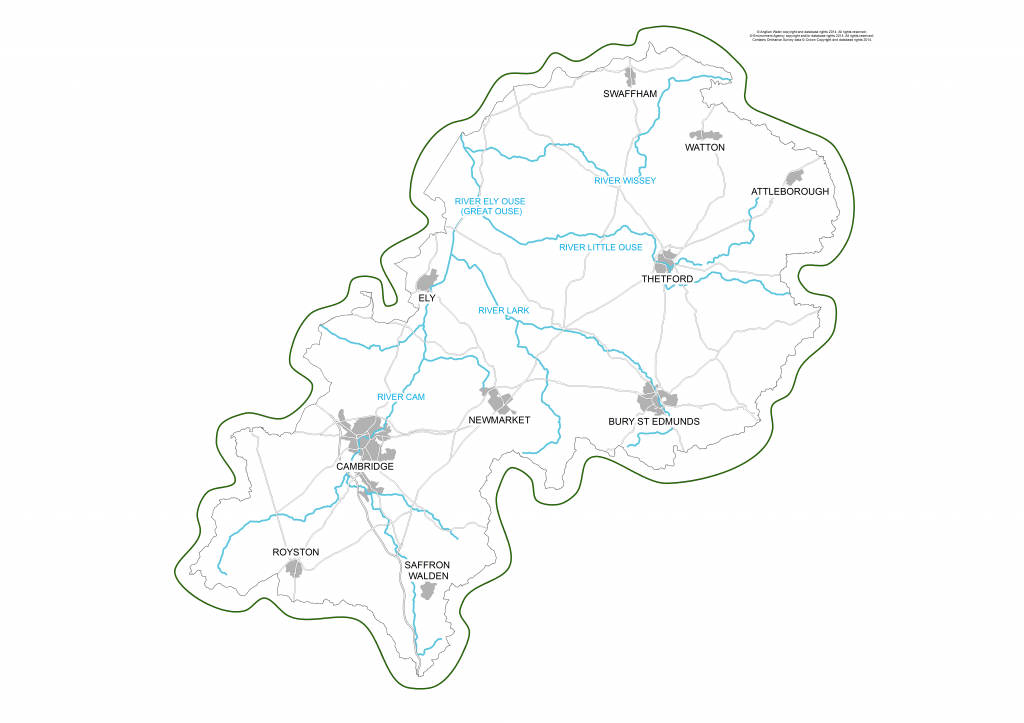 ---
The River Network
The River Great Ouse forms the backbone of the catchment, with three of its four main tributaries, the Lark, the Little Ouse and the Wissey, branching out into the north and the River Cam and its tributaries dominating to the south of Cambridge, draining an area of approximately 3,600 square kilometres.
---
The Geology
The catchment is characterised by East Anglian Chalklands in the south, Brecklands in the north and the South Level fenland to the west, being dominated by rural areas including high-grade agricultural land. The main urban areas are Cambridge, Royston, Saffron Walden, Newmarket, Bury St Edmunds, Ely and Swaffham. The catchment also supports a number of nationally and internationally important water-related sites.
---
Water Supply
There are two important aquifers in Cam and Ely Ouse; the largest is the Chalk which underlies the eastern and central part of the area and is primarily exploited for public water supply and spray irrigation. The groundwater in the Chalk generally rises either at discrete springs or gradually along the length of the rivers, providing valuable baseflow. The other principal aquifer, Lower Greensand (Woburn Sands), is separated from the Chalk by a layer of Gault Clay. Despite being significantly smaller than the Chalk aquifer, Lower Greensand remains locally important for the provision of drinking water.
To find out more information on your local area within the catchment, visit our sub-catchment map.