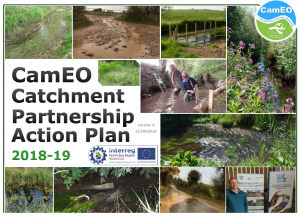 As a partnership, we have wide-scoping aims for delivering projects that benefit multiple users across the whole river catchment. The CamEO hosts provide support to sub-catchment partnerships that enable local groups to turn ambition into action. Our ambitions can be categorised into programmes of work that are shared between our partners:
---
Community Action
Encourage community management of river catchments by enabling decision making at a local level.
Specific Objectives
Increase public awareness and engagement of CaBA and CamEO
Align community initiatives such as RiverCare with local partnerships
Instil a sense of community ownership in local river ecosystems
Communicate the benefits of community driven catchment management.
Farming and Land Use
Land use sectors contribute to, and benefit from, healthy ecosystems.
Specific Objectives
Encourage sustainable soil management in the catchment
Reduce the volume and impact of agricultural diffuse pollution
Increase efficient water use and capture on farm
Promote the use of natural flood management techniques)
Health of the River System
Create, maintain and restore well-functioning, biodiverse and resilient ecosystems.
Specific Objectives
Share best practice river restoration techniques amongst partners
Improve the morphology of rivers within the catchment
Increase the resilience of streams that are vulnerable to low flows
Reconnect natural floodplain systems to reduce flooding pressure
Enhance the biodiversity of river ecosystems.
Invasive Species
Mitigate the impact of invasive non-native species (INNS).
Specific Objectives
Increase knowledge and awareness of the extent and impact of INNS within the catchment
Understand the potential for INNS eradication and control
Coordinate/align INNS action across the catchment
Promote biosecurity messages, including the Check Clean Dry and Be Plantwise campaigns.
Securing Resources
Improve strategic cooperation at the catchment scale in order to secure resources and enable delivery.
Specific Objectives
Increase alignment and availability of existing resources to support the objectives of the partnership
Leverage further resources to support the objectives of the partnership
Improve fund-raising skills amongst partners
Water Resources
Ensure enough water of sufficient quality to support consumption, irrigation and healthy ecosystems. Promote impartial water resource planning to safeguard environmental needs.
Specific Objectives
Raise awareness amongst sub-catchment partnerships about water resource planning to enable them to act as informed stakeholders
Influence policy, such as abstraction reform, to ensure sustainable water use in the catchment
Align national initiatives, such as Water Resources East, with the activities of the partnership
Encourage longer-term water resource planning within CamEO Water Stewardship Business Board network
Keep local partners informed of the national picture regarding water resource management