The quality of CamEO's rivers is defined by their morphology (naturally bendy vs. functionally straight with weirs/locks), flow (often supported by groundwater levels), chemistry (which is influenced by environmental inputs) and as a result, the wildlife that they can support. This quality is classified by the Environment Agency as "bad", "poor", "moderate", "good" or "high" ecological status – the brief video below explains how ecological status works.
Our collective ambition under the Water Framework Directive is to ensure that all of our rivers reach Good Status. Currently, less than 20% of all rivers in England achieve this – and for east Anglia, this figure is much smaller.
Why is this?
All of our rivers have many pressures on them. The map and table below show some of the main reasons why our rivers aren't yet good.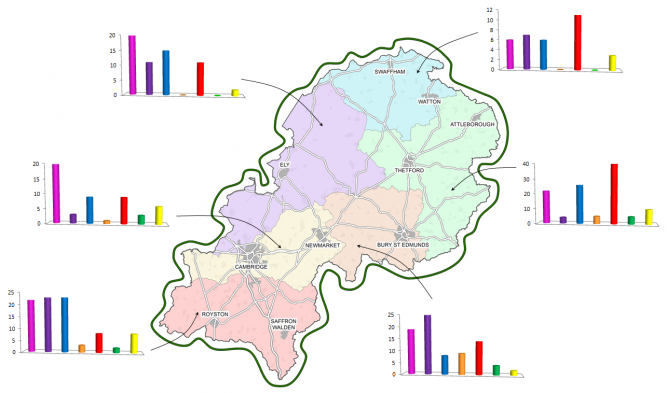 █ Physical Modifications

Changes made by people to the rivers, lakes and estuaries (for example: flood defences, weirs, land drainage and navigation modifications) can have a big impact on how the river functions and the biodiversity it supports.

█ Pollution from Rural Areas including Rural Diffuse Pollution

Poor agricultural practice and rural land management can increase the amount of pesticides, nutrients and sediment found in the river, damaging the ecosystem.

█ Changes to the Natural Flow and Level of Water including Abstraction

Too much water taken from rivers, canals, lakes and groundwater, leads to less water available to create flow, impacting the ecosystems and affecting recreation.

█ Invasive Non-Native Species

Non-native plants and animals introduced to UK waters can have a huge impact on the natural wildlife (particularly through competition for environment and food).

█ Pollution from Sewage Works

Treated water may still contain substances, such as nutrients (phosphates and nitrates), ammonia and other chemicals that can affect the receiving water body (ditch/stream).

█ Pollution from Towns, Cities, and Transport including Urban Diffuse Pollution

Pollutants, such as oil, chemicals and organic debris are carried into the water environment by rain water draining off hard surfaces (roads, pavements and yards). Chemicals from contaminated land; sewage/liquid wastes from homes and commercial premises wrongly connected can end up directly in the river.

█ Other/Unknown Factors

A Failure that either occurs naturally, is unresolved or due to suspect data.