---
The Wissey Partnership Vision
To work together to improve the water environment in the Wissey catchment,
for the community, farming, wildlife, drinking water and business.
---
The River Wissey
The Wissey rises just east of Bradenham in central Norfolk, joining the Ely Ouse downstream of Ten Mile Bank. The catchment is mainly rural, like much of East Anglia, with agriculture a key use of land. The River Wissey is one of the best lowland trout streams in Eastern England, and with its tributaries, supports an array of wildlife. Underneath the Wissey is an extensive chalk aquifer (a natural underground reservoir formed by porous rock beds) which supplies a steady flow of cool water into the river. This aquifer also supplies the majority of the water used for public water supply and irrigation.
The Partnership
We are one of many similar groups across the UK made up of experienced, passionate and enthusiastic individuals and organisations, all looking to understand the issues in our local catchment area and make a positive difference. Since 2012, the Wissey Partnership has been working to share the diverse information held by different individuals and organisations about the river, and develop collaborative projects to address some of the main concerns identified. Many individuals and organisations from across the catchment area have helped us understand what they want from the river and what the issues are. To capture these views, the partnership produced a River Improvement Plan.
---
For each of the sub-catchments, the EA have undertaken an independent analysis of the key influences on water quality and what actions are needed to address these - these can be viewed below. Local groups now have the opportunity to tailor these plans in line with the needs and ambitions of the stakeholders in their region.
Ecological Classification
The current Water Framework Directive classification and reasons for failing to achieve good ecological status can be viewed here (to enlarge any of the images, please click on the map).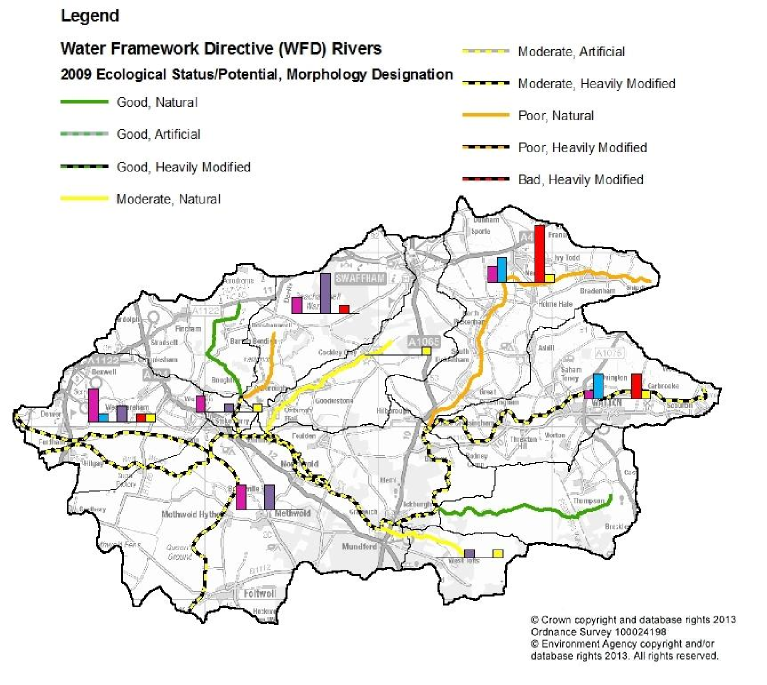 ---
 Action Plan
This analysis of the sub-catchment has been expanded to consider what actions can be taken to ensure that good ecological status is achieved.
---
River Ownership
When undertaking integrated, community-led management of these ecosystems on any level, it is essential to consider who owns the waterbody(bodies) that are being managed.
coming soon
---